Discovery outings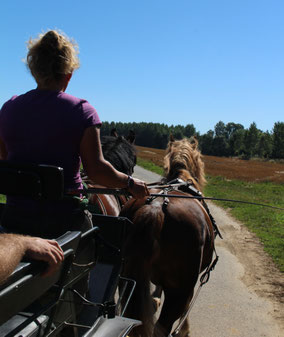 We suggest you outings to share with friends or family. Come and walk to the rhythm of the horses for an outing of 2 hours or more!
We suggest you also outings with a nature guide in the hitch, with different themes: "plants in the time of the Merovingians", "An alien in our woods" (bilingual outing).
Driving course and course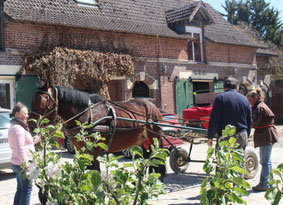 For all those who wish to learn to lead a team, we suggest you 2-hour lessons, one-day courses or more.
With differents themes of courses or internships:
Avec différents thèmes de cours ou stage
initiation or improvement in single driving
initiation or improvement in pair hitching
maneuverability
Skidding / market gardening
introduction to tandem
introduction to 4-person hitching
Working boarding
We suggest you work pensions, to break in or train your horses or donkeys. We allow you to learn or improve with your animals, by working with us.
working boarding 
For more informations or reservations, please contact: Julie.Wynands
By phone: 06 71 92 85 86
by email: julie.wynands@hotmail.fr